Nightguards can protect your teeth from damage from clenching or grinding.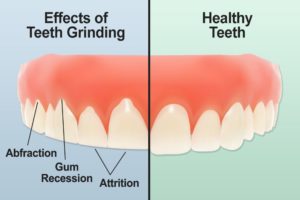 Do you need a nightguard? Talk to your dental hygienist about signs of teeth grinding. Call today for your oral health assessment at Embrace Dental Hygiene 519-736-1100
Many of the symptoms of grinding are not visible or obvious. Your dental professional can help. Everything from headaches, neck pain, to bleeding gums can be caused by teeth grinding.  read more about symptoms of grinding. The image on the left shows some of the signs of teeth grinding. There are also many causes. Read some of the causes of teeth grinding.  
So many of my clients grind their teeth. Some weren't even aware that they had the habit. When I tell them that they do in fact grind or clench their teeth and what can happen if  they don't protect themselves they are shocked. Chipped teeth, broken fillings, TMD or temporomandibular joint dysfunction are just a few of the things. A nightguard can protect your teeth and jaw joints from damage. Meet the SOVA nightguard. Now available at Embrace Dental Hygiene.
Things I love about the Sova:
Custom comfort in minutes
Allows natural flow of air and saliva
Talk, breathe, drink while in place
BPA, Latex, Phthalate, PVC free
Immediate solution for acute patients
120 day Durability Warranty
Sova Nightguards have been Named the Dental Advisor's Best Product Category Award winner for 3 years in a row, the SOVA Aero Night Guard, powered by Diffusix™ Technology, is scientifically designed to protect your teeth from a night of grinding. Made from a non-compressible, perforated material that better protects your teeth at night, SOVA Aero Night Guard is remoldable to create a custom fit in a matter of minutes. The SOVA Aero: comfortable, durable affordable, and covered by 120 day durability warranty.
Fitting the SOVA is really easy. Watch the video.
Questions or comments? I love to have them call me 519-736-1100 or email jen@embracedentalhygiene.com