Whole Health Dental Hygiene Care Embrace Dental Hygiene in Amherstburg-Your Registered Dental Hygienist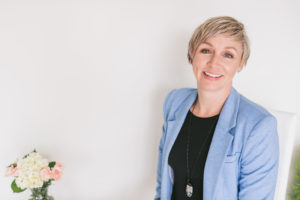 Jen Mayhew
Jen Mayhew has practiced in the dental field since 1999. She is both a Level II Dental Assistant and a Registered Dental Hygienist. She has continually evolved her practice with professional development like Diode Laser Certification, Excellence in Ultrasonics, Orthodontics, Oral Pathology, Nutrition and Personal Training. She is also a mom of two vibrant girls and a natural health enthusiast. Embrace Dental Hygiene which opened in 2015 was a merging of her passion's natural health and the field of preventative dental hygiene. Her vision was to provide a comfortable supportive environment in which she could provide customized dental hygiene care. We focus on proactive prevention from a whole-body perspective. This integrative approach to dental care combines diet, habit, lifestyle modifications with customized science based dental hygiene therapies. Embrace Dental Hygiene is one of Windsor Essex's only independent dental hygiene practices. This means that you receive your dental hygiene care provided directly by a Registered Dental Hygienist in a nontraditional environment. It's free from radiation, needles, and fillings and filling materials. We focus not on disease but on protecting and promoting health and wellness. Oral health is essential to your systemic health and longevity. Our services include oral health assessments, cavity prevention, pH management, dental cleanings and more. Each treatment plan is designed for that client's unique needs and lifestyle. Embrace Dental Hygiene also houses a fully stocked Oral Health Boutique with all natural oral care products and tools.
At Embrace Dental Hygiene we recognize that oral disease is a symptom of a systemic illness or imbalance. We work with you to find the root cause of diseases like tooth decay and gum disease with diet, habit, and lifestyle modification combined with science based dental hygiene therapies. Designing each visit to suit your family's wants and needs from a whole health focus. Providing all of your preventative dental care from age 12 mths and up. Click here to read what my clients are saying about their visit to Embrace Dental Hygiene.

Why choose Embrace Dental Hygiene to provide your care?
Whole Body approach to your dental hygiene care
RELAXED atmosphere, no anxiety
Natural products and treatment options available (all natural, non toxic, gluten free, vegan, and fluoride free options)
Convenient flexible hours. Next day appointments often available.
No need to break up with your dentist. We take care of any necessary referrals.
Exceptional service
Modern techniques and technology
Focus on prevention of disease and promotion of health
Benefits accepted and flexible payment options for those who have none.
Eliminate tooth decay, bleeding gums and tooth sensitivity with customized care plans without visiting the office.
Enjoy the massaging heated chair with your spa inspired teeth cleaning appointment 
No referral necessary call now to book 519-736-1100 or email [email protected]
Providing preventative dental care in Windsor Essex, Amherstburg Dental Hygienist Benefits Accepted
Holistic approach to dental care in Windsor Essex, Amherstburg Whole Health Dental Care