Baby's first visit should take place between 6 mths and 1 year. Let me help you prevent dental problems before they start.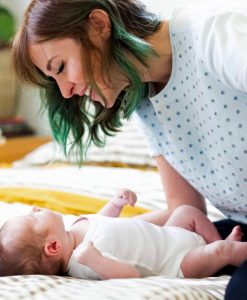 Hello moms and caregivers. I have a passion and that is helping families prevent tooth decay. Did you know that cavities are 99% preventable and that there are no bad teeth. Even if you have a family history of decay that doesn't mean it needs to continue with your children. Sometimes all that is needed to prevent cavities in kids is a conversation with a dental professional BEFORE the teeth erupt. This conversation or consultation will provide you with the tools you need to care for your infants mouth. This starts before there are teeth and then continues once they begin to erupt. Call today to schedule your little one's first visit 519-736-1100 or email jen@embracedentalhygiene.com Your little one's first visit is FREE if they are under 3 years old.
Just like a well baby check up at the doctor a baby needs to see a dental professional between the ages of 6 mths and 1 year. Their little teeth will have started to come in. Click here for a chart that shows approximately when to expect which teeth. Don't worry kids are all a little different:) But the one thing that is the same with all children is these teeth require care. If you want to prevent cavities and prevent the need for your child to have potentially painful dental procedures call your dental professional or me. Have that conversation that will prevent tooth decay, pain and disease.
Early Childhood Tooth Decay Causes Other Developmental Problems
Your teeth are necessary even baby teeth. They allow our children to speak, eat and provide the foundation for facial features. Decay creates pain, can lower self esteem and interferes with eating healthy. We all want our children to be happy and healthy. Tooth decay is the number one reason for day surgeries in some areas. Click here to read about Early Childhood Tooth Decay. And the disease is preventable! Prevention is pain free and affordable. Don't wait until there is a visible problem or pain. Talk to your dental professional or me to plan your baby's healthy mouth. Less cavities as a baby also means less as an adult.
Are you worried about the cost of care or do you find it difficult to get to a professional?
The health unit offers free dental screenings. If your household income is under a certain amount your children may be eligible for the Healthy Smiles program. This means your child's preventative care and minor restorative would be paid for. Embrace Dental Hygiene and other offices happily accept Healthy Smiles. But is so important to me to help you and your little ones. I offer a free consultation for kids under 3 years old. This can be completed in the office or we can also arrange to have an ONLINE conversation to prevent cavities. Are you ready to start preventing cavities?
Call me 519-736-1100 or email jen@embracedentalhygiene.com and arrange our first meeting. I can't wait to meet you and your little one.
Providing preventative dental care for kids in Windsor Essex, Amherstburg, Registered Dental Hygienist, Dental Hygienist
Holistic approach to dental care in Windsor Essex, Amherstburg