What tooth paste should you use?
Ok lets talk toothpaste. As a dental hygienist it's a pretty common occurrence for people to ask me what kind of dental products and aids they should be using. It's my job to match my clients to products that are going to help them improve their health. There are so many to choose from… The first thing I'm going to say is tooth paste doesn't clean your teeth your tooth brush does. It's your brushing technique, and a whole healthy diet that controls that nasty plaque bacteria. I'm not saying throw out your toothpaste. There is value in some of the ingredients in tooth paste. But there are also some ingredients that have no value and can even be harmful. Click here to view the "dirty dozen" ingredients in personal care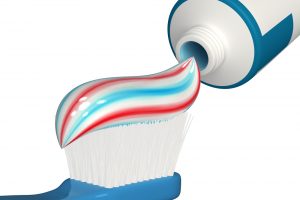 products. My goal in 2018 is to make my personal care routine "clean and green"!
Also, the commercial toothpaste swoop like you see on the right. WAAAAYYY too much. A pea size amount for an adult and a rice size for a child. They want to sell you tooth paste. Less is more and read the instructions. Often you are not supposed to rinse after for a certain amount of time for the ingredients to be effective.
STUFF in toothpaste
Conventional toothpaste has a lot of STUFF in it. Stuff that we don't need like chemicals, preservatives and color. I don't know about you but I'm all about avoiding stuff I don't need when I can. There are many natural toothpaste recipes that are great, some natural brands I really like are Nelson Naturals, Radius, and Green Beaver. (Questions about the right one for you? Give me a call!) Fewer ingredients is better. Strong flavors and foam can even inhibit your ability to feel the clean. I recommend brushing dry first and then using a small amount of toothpaste as a finishing touch.
What does toothpaste do?
Tooth paste can do many things. It can reduce sensitivity, freshen your breath, provide antibacterial properties, prevent tooth decay and control surface stain. But I recommend you familiarize yourself with the ingredients that do these things. Helpful ingredients are things like calcium, arginine, hydroxyapatite, xylitol, clay, and mineral salts. On the other hand be aware of ingredients that are not helpful and should be avoided. Some ingredients I recommend avoiding are triclosan, artificial color or flavors, and sodium laurel sulfate and it's derivatives. Whitening tooth pastes can be ok for occasional use but are often very abrasive. This can be damaging with daily use. Your dental professional should be able to guide you. I am always here to help!
There are so many options. You need to know your needs and risk factors and choose products that match. I spend a lot of time researching oral health products and I do my best to keep up with advances and new products available. I now carry many varieties of tooth pastes, powders and rinses at Embrace Dental Hygiene. Stop in, give me a call 519-736-1100 or email me jen@embracedentalhygiene.com if you have any questions about the right product for you:)
Like these tips? Don't forget to sign up to receive my Top 10 Tips for a Healthier Whiter Smile.
Natural personal care products Windsor Essex. Registered Dental Hygienist Windsor Essex. Dental Care Windsor Essex. Holistic Approach to Dental Care.