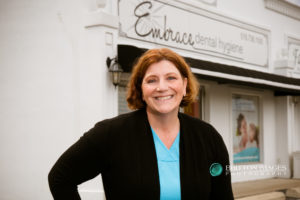 Jen is happy to welcome a new Independent Registered Dental Hygienist to Embrace Dental Hygiene. Sandie is joining Embrace Dental Hygiene as of July 2019 and is eager to build her practice with us. Jen Mayhew started Embrace Dental Hygiene in 2015 and since then has been practicing as one of Windsor Essex's only independent dental hygiene practices. She is now welcoming a new face to her practice whose treatment philosphies mirror Embrace's comfortable prevention focus.
Sandie is an independent dental hygienist who has been in professional practice since 2007. She is a graduate of St. Clair College and was the recipient of the Preventative Dental Hygiene Award. Sandie is a member in good standing with the Ontario Dental Hygienists' Association, Canadian Dental Hygienists Association and the College of Dental Hygienists of Ontario, as well as the local Windsor Essex Dental Hygiene Society.
Sandie has a genuinely compassionate personality and is committed to the health of her clients – so it is not surprising she has developed great relationships with them! She enjoys getting to know her clients regardless of ages or dental health needs. Her easy-going manner ensures that even the most nervous client will feel quickly at ease. Not satisfied to just treat symptoms, Sandie always seeks to identify underlying causes of oral health problems, believing that both prevention and education are essential to establish and maintain healthy habits and long-term wellness.
Outside of her practice, Sandie loves to discover new places and meet new people. The journey is part of the adventure! She loves to spend time in nature – camping, hiking and fishing. She is trying to learn to play guitar, enjoys painting and pinterest and is passionate about Halloween. She loves animals and attends dog shows with her rare breed dog, Stuie. She enjoys spending time with her husband Dan, their large family, where there is always laughter…she enjoys the laughter most of all.
Sandie is excited to join Embrace Dental Hygiene and is eager to provide quality preventative dental hygiene care to you and your family. Smiles are forever!
We offer teeth cleaning, teeth whitening, cavity prevention, baby's first dental visit, pH management, oral health assessments.
Sandie is welcoming  new clients on Thursdays from 7am to 5pm. Please call 519-736-1100 to book with Sandie of email info@embracedentalhygiene.com.